Let's first focus on the Pinot Noir grape in general.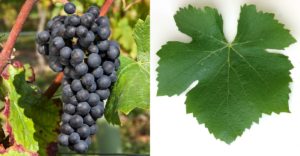 Pinot Noir is the 10th most planted grape variety in the world. It  ranks with some of the oldest grapes in the world. It has been around since the Roman times   Because of its widespread popularity, Pinot Noir is considered an international variety. It is classified as one of the most common varieties for the production of single grape variety wine.
The name comes from the French words for "pine" and "black," a reference to the pine-cone shape of its clusters on the vine and the color of the grapes. According to DNA analysis, Pinot Gris, Pinot Blanc, and Pinot Noir are mutations of the same grape variety.
Pinot noir grapes are widely considered to produce some of the finest wines in the world, but it is a difficult variety to cultivate and transform into wine.  When done right, it produces lighter-bodied wines of elegance, complexity and longevity.  Due to its popularity and difficulty to grow, it's one of the world's most expensive wines.
Pinot Noir has a natural ability to be lighter than other red wines and have low tannin
And its aromas?
When young, wines made from Pinot noir tend to have red fruit aromas of cherries, raspberries and strawberries. As the wines age, Pinots have the potential to develop vegetal and "barnyard" aromas that can contribute to the complexity of the wine.
Typically, Pinot Noir is dry, light- to medium-bodied, with bright acidity, silky tannins and alcohol that ranges between 12–15%. The best Pinot Noir taste has complex flavors that include cherry, raspberry, mushroom and forest floor, plus vanilla and baking spice when aged in French oak.
Pinot Noir wine taste varies based on climate and producer style. Cooler climates produce more delicate and light-bodied Pinot Noir. Warmer climates produce riper and fuller-bodied Pinot Noirs with higher alcohol.

Pinot Noir and Pinot Meunier are the only two red grape varities allowed to be used in the production of the world's most famous sparkling wine – Champagne!
What to pair Pinot Noir with?
Pinot Noir is a light wine that goes very well with salmon or trout. It also pairs well with white meat such as chicken, duck, or pork. If we are looking for a vegetarian dish, earthy vegetables and herbs like mushrooms and thyme match the wine's savory flavors, especially when folded into risotto and pasta.
All in all, Pinot Noir is a wine that makes everyone happy around the dining table, without neglecting cheeses such as brie or cheddar.
What you need to know about Czech Pinot Noir
The variety was brought to the Czech Lands by the Holy Roman Emperor and King of Bohemia, Charles IV in the 14th century. He planted it around the town of Mělník, about 30 km north of Prague, where it thrives to this day. It was then called Roučí.  Along with the Burgundian varieties he also must have brought Burgundian advisers, as is apparent from the same walling and terracing system of vineyards, which are in typical Burgundy style. I
As written previously, the grape prefers cooler climate, to be surrounded by water and to be protected from the wind, especially in the valleys. North Bohemia and South Moravia in the Czech Republic possess those perfect conditions. But the amount of sun that the grapes receive can impact the final composition of Pinot Noir wine.

More precisely, Pinot Noir is grown in the Velkopavlovice and Mikulov regions.  The Pinot Noir wines from the vicinity of Mělník, Litoměřice, in Moravia from the Bzenecko and Mutěnice regions are excellent.
Now called Rulandske Modre (Pinot Blue!)  and sometimes Pinot Noir,  it is still a very elegant wine with pleasant, fruity, tones of forest fruits such as blackberries, raspberries and strawberries with a spicier acidity than the other European ones. Tones of stone fruit also often appear. In older more mature wines, we also taste tones of leather, smoke or prunes and jam.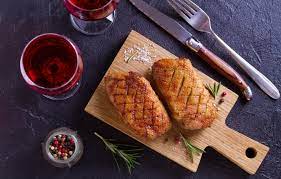 The famous Czech duck breast and mushroom risotto in Fall pair peferctly with Czech Pinoit Noir.
So, Czech Pinot Noir has no reason to be ashamed of its other "brother". On the contrary, it now wins many international awards.
Our recommendations  for the best Czech Pinot Noir are:
Vinařství Sůkal, PN 2020
Krásná Hora, PN barrel selection, 2020
Points Vinselekt Michlovský, PN Premier 2018
Vinařství Václav, PN 2020
Vinařství Springer, PN Family reserve 2020
Vinařství Jaroslav Springer, PN Roučí 2017
Vinařství Thaya, Apri PN 2019
But please, don't share the list!
Come to the Czech Republic with us to enjoy it.
Na Zdravi!